Why is it that every time you head into the grocery store one of your children says their hungry or your baby begins fussing and gnawing on their chubby little hands?  You go in with your list, and hurriedly try to get out of the grocery store before meltdowns, and whining begins.  Every time I head into the grocery store my toddler complains of hunger.  He asks for everything on the shelf, and throws a fit unless he gets it.  Not wanting to start a war in the grocery store I find myself opening packages on the shelf to appease my toddler, and throwing the additional item not originally on my list into the shopping cart.
Out of desperation I decided to make a healthy version of a candy necklace using Cheerios in hopes to keep my toddler occupied in the cart while I grabbed the much needed necessities to fill my bare fridge.
First, I went to Walmart, grabbed some basic yarn, and chose different flavors of Cheerios to adorn his necklace with.  He was happy to help me string the Cheerios on the necklace, and was very excited to wear it once we finally arrived at the grocery store.  I plopped him down in the cart, handed him his candy necklace and began shopping.  
This was by far the most peaceful shopping experience I have had since having my son.  He was happily munching on his Cheerio necklace as I perused up and down the aisles.  I would be lying if I said I didn't hear a peep out of him the entire trip, he of course needed some water, and wanted to share his tasty necklace with me while we shopped. 
All in all I'd strongly suggest this Cheerio necklace if like me your grocery trips are often times interrupted because of your child's sudden insatiable hunger upon stepping into a grocery store.  What I loved is that your child can help you string the necklace before heading to the grocery store, helping encourage the use of their fine motor skills.  Now the cereal you choose doesn't have to be Cheerios, any round cereal with a hole will work.  Happy grocery shopping!
I continue to refer to my toddler as a picky eater, but in reality I can honestly say I think most toddlers are picky.  As babies they happily ate up most anything you put in front of them.  As babies, everything is new, some new exciting texture, taste, and smell.  As toddlers, they realize they have their own personalities, their own likes and dislikes.  Anyone with a toddler will tell you they are hardheaded, strong willed.  My toddler would personally live off graham crackers and milk all day every day if I gave him the ability to choose. 
I find myself often times frustrated at his lack of desire to try different things.  Toddlers like routine, and change is a hard concept.  For some it's harder than others.  "They" say that toddlers take up to 3-4 times of seeing something new on their plate to try it.  Who is "they" anyways?  And "they" clearly haven't tried feeding my picky eater.  So, being the creative mama I am I watched my sons eating habits, focused on things he liked and didn't like.  He prefers to drink his food; he loves "shakey's" also known as milk with some sort of protein powder.  He loves his milk, and prefers to drink his food rather than eat.  Who can really blame him, drinking takes less time than sitting down to eat, and his little busy mind has things to do and places to see!
I was worried he wasn't in taking enough healthy calories because of his inability to try new things.  Some days it seemed like he would only eat a bite of bread and maybe 4 goldfish and call it a day.  I talked to his pediatrician who said he was thriving, and growing so to try not to worry, and continue to offer him healthy meals.  Out of desperation and frustration I started making him smoothies and shakes.  The options are really endless, with different fruits, juices, milk, almond milk, you name it.  He also is at the age where he loves to help.  Mixing and pouring can keep him busy for hours, so I put him to work helping to pour different fruits, milk, and juices into the blender.
I purchase a sugar free vanilla, or chocolate protein powder to add some healthy calories into his smoothies and shakes.  There are so many different options but I'd like to share a few of our favorite recipes below. 
Chocolate Peanut Butter Shake
1 cup unsweetened almond milk
1 scoop chocolate protein powder (or sugar-free carnation instant breakfast)
1 tbsp peanut butter (if your child is allergic you of course would want to skip this)
½ banana
Mix all ingredients, and enjoy!
Another staple smoothie in our house is:
Berry Smoothie
1 cup milk
1 scoop vanilla protein powder (or vanilla carnation instant breakfast)
½ cup mixed berries
¼ fresh spinach
Mix all ingredients, and enjoy!
Like I mentioned above, options are really endless.  You can use mango, strawberries, add a teaspoon of cinnamon.  Experiment, and let your children experiment with you as well.  And most importantly enjoy these special moments with your children, they go much to fast!
As moms we are known as multi-taskers, the ones who can do it all.  The other day I was trying to juggle my children as I paid for 10 items that I somehow crammed into my kid free hand.  Mumbling to myself I said, "Not sure why I didn't grab a cart," the young boy bagging up my items smiled at me and said "moms can do it all, right?"  Well as much as moms would like to be able to do it all, we can't.  We are only human. 
One important aspect of being a mom is providing your children with healthy meals, and the nutrition they need to grow.  Let's check back into reality for a moment, feeding your kids healthy food isn't only expensive, but it can be time consuming, and then there are those children (my son included) who would rather feast on chocolate and graham crackers all day.  Too many healthy articles on line to choose from and the fact that it's much easier to stick to a routine recipe than it is trying to juggle the demands of your children all the while attempting to create the newest, healthiest dinner masterpiece make it seem easier to just stick to quick microwaveable food.  Not only that, but sometimes there is that recipe that just fails; plain and simple.  Or it may be exceptionally tasty, but your kids dry heave at the sight. 
Chicken tenders, pizza, carbs, carbs, carbs seem to be a favorite in my house.  I however, realize living off carbs isn't probably the healthiest meal plan for my children.  So instead I secretly sneak things into their muffins, their breads, you name it I've hidden it.  Usually it goes completely unnoticed. 
I would like to share an absolute favorite in my house.  First of all, what child doesn't like pizza?  Secondly, what child doesn't like to help make pizza with their mama's?  Kid's like to help in the kitchen, so I put mine to work!  It can be fun to have them help choose the toppings of their choice (within reason of course, chocolate chips are not an option in this case).  Rather than use regular pizza dough I'm going to share a family favorite using Naan bread for a healthier alternative to pizza.
My children absolutely love this, and it is so simple and easy to make.  There are endless options with toppings of your choosing.  You can choose different cheeses, make your own pizza sauce, or take the busy mom's route, and purchase sugar free pizza sauce.  Your choice!  I personally use either Trader Joes brand, or Ragu light no sugar added.  The less sugar the better in my household.
What you will need:
Naan Bread
Sugar Free Pizza Sauce
Low-Fat Mozzarella cheese
Pureed spinach
And lastly, toppings of your choice.
Not only are these exceptionally simple to make, but very affordable.  In our household we usually make two pizzas.  I puree about a cup of fresh spinach.  Frozen is okay too.  I mix that into about a cup of the pizza sauce.  Like I said earlier, hiding veggies is the key to getting your picky toddler to eat their greens without fuss.  I spread the sauce with the spinach puree over the Naan bread.  My family isn't too big on sauce so we spread a thin layer.  We then sprinkle with cheese.  Add some olives and pineapples to the top and put it in the oven on 425 for 10-15 minutes. 
Another favorite in our household is using turkey pepperoni found in most deli sections of the grocery store.  This recipe is not only quick, and simple but exceptionally affordable for families looking for healthier meal options within a budget.
Healthy Alternative to Deep Fried Chicken Fingers
You Will Need:
1lb boneless, skinless chicken breast, sliced diagonally into strips
1/2 cup low-fat buttermilk, or (1/2 cup of milk with 1 tablespoon lemon juice added and let curdle for 1 minute) 
1 egg, beaten
1/2 cup crushed corn flakes, or crushed Ramen Noodles
1/4 cup Italian breadcrumbs
1 tsp powdered garlic
1/2 tsp dry oregano
1/4 tsp ground black pepper
1 tbsp canola oil
Preheat oven to 400 degrees, drizzle canola oil over bottom of a shallow baking pan. Pour buttermilk (or milk/lemon juice) and egg mixture into gallon sized Ziploc bag, and add the sliced chicken breast. Seal bag, removing as much air as possible, and refrigerate it for 15-20 minute, while you mix the dry ingredients.
Combine corn flakes or crushed Ramen, breadcrumbs, garlic, oregano, and pepper in another Ziploc bag. After chilled, remove the chicken strips from the wet mixture bag and drop them into the dry bag, shaking and turning the bag over to coat the strips completely, "shake n bake style".
Arrange the strips, evenly spaced, on the oil-drizzled pan, and bake on center rack for 5 minutes, then flip and bake for another 5 minutes. For crispier fingers, bake for slightly longer, or increase oven temp slightly.
Serve the fingers with a light ranch dressing, or ketchup, for a healthier alternative to their deep fried counterparts.The chicken offers almost 50% of your daily protein needs in just one serving, according to a similar recipe from Food.com, and the Omega-3 fatty acids in cholesterol- free canola oil, just a tablespoon a day,has been shown to reduce the risk of America's deadliest cancer, colon cancer, in men and women.
Mmmm… Don't you just love a Sunday ham? Drizzled in all it's maple, sugary, honey, roasted goodness? It's one of my favorite "wait-all-day-for-it" meals, because I've never had a bad ham. Really. Never had one.
But one of the best parts of a ham for my family is the after-products from that delicious chunk of pork. Particularly the soup. My mother and my mother's mother, and HER mother's mother all made soup from the ham bone and the little bits leftover ham that escaped the dinner table (and sometimes had to be saved by themselves in a secret Tupperware dish in the back of the fridge so that soup could be made!) This is my mother's recipe with just a little bit of adaptation, I don't use the bones for stock due to lack of time. (If you'd still like to know how to make ham stock click here.) it takes about 45 minutes to an hour depending on how thick and rich you want it, and it tastes amazing, every time. You won't be disappointed.
Ham and Potato Soup
4 cups of water
1 cup chicken broth, or 3 chicken bouillon cubes, crushed
4 cup washed diced potatoes (I like to leave the skin on)
1/2 cup chopped celery
1/2 cup peeled sliced carrots
1/4 cup minced onion
The chopped ham bits from last night, (I usually save around 1 to 1-1/2 cups if I can)
3 1/2 tbsp of butter or soft spread
1/4 cup all purpose flour generously seasoned with salt and pepper
2 cups of 2% or whole milk (You can use 1% or skim, but add a little extra flour for richness)4 sprigs fresh parsley
Grated cheese (Parmesan or Cheddar work best)
In a large stockpot combine all of your vegetables, the potatoes, the ham and the water. Bring these ingredients to a boil, then cook over medium heat for about 15 to 18 minutes, until the potatoes are tender and are all the same pale white color, then add the chicken flavoring of your choice.
Melt the butter or spread in a smaller saucepan on medium low, then slowly whisk the seasoned flour into the butter, then gently pour the milk, a little bit at a time, into the butter flour mixture, and make sure that any lumps are quickly whisked out. The smoother the better for the consistency of the soup. Continue to stir, reducing the heat to low, for 5-6 minutes until the sauce is super creamy.
Stir the sauce into the soup, then serve in individual bowls. My mom always topped with some kind of grated cheese and a pinch of minced parsley, then served it with Keebler Club Crackers or even oyster crackers. My dad tops his with BacNBits.
Some of the additions or substitutions I've tried include a can of creamed corn added with the butter/flour mixture at the end, or other vegetables like broccoli or cauliflower. I've also made it the soup extra thick and topped it with a puff pastry circle then baked it in the oven for a "pot pie" kind of meal.
Nothing screams fun like your first visit to a new pediatrician. Yesterday was the Kiddo's first visit to meet his new Dr. and it was a long drawn out mess. We made it a joint appointment, with his cousin the Bug, and it was scheduled for 1PM. Thankfully I brought some toys and snacks, because we didn't get seen until 1:50, and taking the time to carefully examine both babies, and get their medical histories down took quite a while, (we didn't leave until 4!!!) especially while trying to keep two toddlers entertained in a tiny (and hot and stuffy) examining room.
I brought along some Snack Keeper cups made by Nuby, they have tops that are made to look like one of those door seals from Star Trek, and your toddler can put your his or her hand in to grab some Cheerios, the snack of the day, but the majority of them don't come out. The lid is made of a super soft rubbery plastic and allows just enough room to put a baby hand in, but not enough room to get it stuck, and not enough room to let any Cheerios out. The cups have handles on both sides, and are very heavy-duty, stood up to repeated banging on the table, the trash can, the door, etc. They are also the perfect size for dry snacks like Cheerios and Goldfish, but could also hold a good amount of grapes or even some apple chunks if your toddler is old enough to eat them without direct supervision.
I did notice that the new game for the cups became "Let's Take All The Cheerios Out And Not Eat Them", but if your little one happens to be hungry enough to want to eat said Cheerios, the cups work great. They are also good for minimizing mess in the car while headed out on a day trip, or for letting your toddler be independent enough to carry his own cup of crackers or snacks. The lid seals pretty tight, and because of the patterned hole in the top there was no attempt to try to get it off to dump the cups. They are dishwasher-safe, and the ones that I bought from Sam's Club came in a nifty two-pack with two Sippy cups, and were offered in a variety of girl and boy friendly colors. The journey towards the Sippy cup has been pretty slow, but the Kiddo is warming up to it.
He got all of his shots caught up for our state, which meant two more, which he wasn't happy about while it was happening, but I managed to distract him pretty quickly by taking him out of the office while the Bug got her shots and walking around "backstage". He even got two Bugs Bunny Band Aids! Such a brave boy.
I am under the impression that EVERYONE should have an herb garden, as it is a great source of flavor for your dishes, can teach your kids lots of things about growing, planting, caring for plants, hard work, character, etc, and just looks nice. If you have an OUTDOOR herb garden,make sure you are well after the danger of a frost. If you have an INDOOR herb garden, make sure that you can regulate the amount of sunlight that hits your garden, preferably near a south or west facing window, and make sure it stays away from drafts, doors, and protect it from the younger kids, and the cat. Cats will nibble on your indoor herb garden. Fair warning.
There are only a few spices that I can think of that are absolutely necessary in every kitchen, and thankfully they are all easy to tend to, are fragrant throughout the seasons, and some can even be dried and stored for later use. They are as follows:
Basil: My favorite spice. Basil is a plant that starts out as one stem with several large leaves on it, and eventually can reach the size of a small shrub. It grows quickly, taking about 8 weeks from seedling to harvest time, and is used in dishes based in Italy and the plant itself originated in India. Basil compliments the flavors of tomatoes, peppers, zucchini, and other squashes, and is grown outdoors in the summer, in 1/2 sun.  
Dill: Originated in Egypt. It is most often used in brine recipes for pickling any number of items, from cucmbers to pigs feet. It has a sharp tangy flavor that compliments potatoes, especially the little red ones, root vegetables, eggs, mayonnaise, and cottage cheese. It grows best in full sun, spreads very quickly, and grows perennially, so you won't have to replant every year.
Marjoram: Comes from North Africa, has been used in recipes since ancient times. Marjoram compliments a lot of fried foods, and has  a spicy sweet flavor that is great with pork and fish. Plant your marjoram in May, and if you harvest it before the first flowers start to appear you can hang it in bunches to dry without losing any flavor.
Oregano: Closely related to marjoram, oregano is a more bitter spicier plant. It is found all over Europe, Asia, and North Africa. It compliments a lot of the same recipes as basil, and gets the same planting, harvesting and drying treatment as Marjoram. 
Parsley: Parsley is used in dishes all over the world, especially in French cuisine. It has a refreshing spicy sweet flavor that compliments almost anything you make with it, and it also makes a delightful garnish. Originally parsley was added to a diner's plate to be chomped on to cleanse the palate between meal courses. It grows throughout the summer and early fall if outdoors, but dies every year, as it is only an annual.
Rosemary: Rosemary has been regarded for centuries for is mysterious medicinal and magical purposes. It is used the most in Europe and the Mediterranean regions, and compliments root veggies, pork, chicken, fish, and squash dishes. Plant your rosemary well after the last frost and keep it from freezing, as it is very temperature sensitive.
Chives: The chive originated in central Asia, and is related to the onion. It looks very much like a tiny shallot with a long green stem and a white root base. It's flavor is not as intense as the onion or shallot, but it lends a nice flavor to egg dishes and is great chopped fresh over a sour cream and buttered baked potato. Plant your chives in April, wait til June to harvest, and they will SPREAD.
Thyme: Grows wild on the rocky areas of the Meditteranean coast, with the same growing condidtions as basil or oregano. It loves the sun, so put this pot right in the window, but make sure its away from any drafts or windy areas.
Mint: This sweet and refreshing herb grows anywhere you put it, as long as it is not in full sun. Mint compliments any number of dishes, and is best used fresh as it does not dry well. My dad's mint garden grew so quickly that a large part of our lawn is now mint. It makes a very nice scent that wafts through the neighborhood when you mow it in the hot summer months.
Catnip: It's technically an herb, but it has no value to human cuisine. It makes cats act FUNNY. They love it. Grow it and see what happens to your cat. Its quite amusing. It grows much like basil.
Here's a quick lesson in starting a basic herb garden from HowCast.
After a long day of playing cowboys and Indians or "Oregon Trail", my family, particularly the Mom of that family loves an easy to make casserole, something that dates back past those hard-livin' days when everything was made in one pot and stuffed under the coals of a fire. It's so simple; throw a few ingredients together, put it in the oven for a half hour or so while you set the table and get hands and faces washed and toys put away (yeah, right) sprinkle some cheese or some sour cream over the top, and tada! Dinner's ready, usually in less than an hour. This casserole combines a staple of most kitchens and favorites of toddlers and big kids every where, hotdogs, with tasty chili and corn bread for a meal that's sure to make any cowboy or cowgirl, to quote my son's hero, Mater, "happier than a tornado in a trailer park."
Chili Dog Casserole
1 package sweet or country style cornbread mix, (as well as the necessary ingredients for it)
1 can chili (with or without beans)
6 hot dogs
1/2 cup chopped green pepper
1/4 cup minced onion (optional)
1 cup shredded Cheddar cheese
Prep the cornbread batter according to the directions written on the package. Spray an 8X8 casserole dish with enough Pam to leave it pretty well coated, and pour just half of the cornbread batter. Slice your hotdogs into halves, lengthwise, and lay them on top of the mix. Top the hotdogs with the chili and sprinkle the minced onion over the chili, then sprinkle with half of the cheese. Put the casserole dish in the oven for onehour, at 350*F. About five minutes before it is done, or right after you've served it, sprinkle the rest of the cheese on top.
To make this a slightly spicier treat, try adding minced jalapenos or fresh and hot salsa to the chili mix. You can also swap the shredded cheddar for Velveeta, for a creamier chili dog casserole.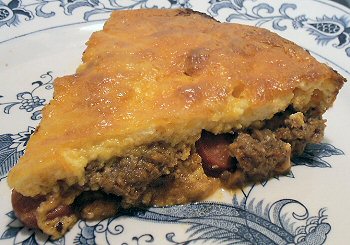 Happy Cooking!
I am still surprised when I visit families for dinner who don't put applesauce out as a "dip" for any kind of pork chop meal. It was a huge family favorite, and my mom made sure to put it at the table whenever we served pork.
The history behind this meal duo dates back to the 4th and 5th Century A.D. when the "Apicius", one of history's first recognized cookbooks featured a meal that combined both pork and apples and explained that the tart of the apples acid helps the body to digest the pork's unwieldy fats. Today's meal combines pork, sometimes not a kid's favorite, apples, which rank a little higher on the tasty-scale, and Red Hots, America's favorite cinnamon candy.

Red Hot Apple Cinnamon Pork Chops
************
You Will Need:
4 Pork chops
1 tablespoon vegetable oil
1 tsp fresh ground black pepper
1/2 cup of chicken broth
1 tablespoon lemon juice
1-1/2 cups applesauce (chunky preferably, for better nutrients)
1 dozen or so Red Hot cinnamon candies
First on the to do list for this recipe is to make the Red Hot applesauce. Combine the applesauce and the cinnamon candies in a small saucepan over medium heat, and stir until the candies melt and everything is thoroughly combined.
For the pork, heat a skillet to medium high, and brush the pork chops with the vegetable oil. Brown the chops on both sides, about 3-4 minutes. Sprinkle salt and pepper over the chops, reduce the heat to low, add the chicken broth and lemon juice. Cover the chops and simmer for 5 minutes.
Top the chops with the Red Hot Applesauce.
Happy Cooking!
I've seen it hundreds of times, as I walk through the parking lot, mostly filled with unusually large breeds of vehicles, at my local Sam's Club. Couples in much smaller cars, usually with their "Family Stickers" limited to them, one kid and a very small dog, drive by with apprehension in their eyes, heading to Publix, or Kroger, or another smaller sized supermarket, because they feel like they are getting a better deal. And maybe for some items, particularly items you don't find in large sizes normally (ethnic foods, etc) it could be, but growing up in a medium to large sized family, with my dad owning his own business, we found ways to make the bulk discount stores work well for us. Does shopping at a huge "membership-required" store scare you off from their pretty significant deals? Do you think your family is too small to garner any benefit from buying in bulk?
For my family of three (two adults, one toddler, and one very teeny dog) I use Sam's Club for paper and plastic products, meats, frozen veggies, cereal and snackables for baby, and even my favorite vitamins. The caveat is that I also spend a lot on quart/gallon sized Ziploc Freezer bags, and everything I buy must be long-term shelf stable, or must freeze well. I buy beef, chicken, pork, and even fish, either already frozen or ready to cook, and split everything up into portion sizes of one or two or three, put a small piece of wax paper between each piece of meat, and put the portions into freezer bags. That way, when I leave for the day's errands in the morning I can pull out a baggie of chicken or beef or fish for that night, and put in the microwave or refrigerator for later.
Paper items, toilet paper particularly, is one of the best "secret deals" at the bigger warehouse stores. You can get a months worth of toilet paper, (the comfy kind) for between $12-$18. Same goes for paper towels, napkins, paper plates. I think that's why they always hide it in the back of the stores by the stock room. If your spending $12 dollars for the biggest pack at your grocery that only gets your through the next two weeks, you've saved plenty.
The warehouse stores also offer great benefits for your car, your eyes, your health, and even your electronics budget, giving you significant discounts for quality name brand products like tires, TVs, cameras, cell phones, eyeglasses/contacts and even jewelry.
Memberships are usually the biggest point of contention for most shoppers, but the individual costs are between $35-$100 annually, much less than what you will save in the course of the year. They have four standard memberships, for businesses and individuals, and they now have a college student membership as well (great for savings on laundry soap!). They also have a nifty new feature, the Click 'n' Pull, where you can go to the Sam's Club website, pick out your order online before 5PM on any day, and it will be ready for you the next day at your local store to pick up! You don't even have to wander the aisles anymore! I haven't tried the Click 'n' Pull yet, but I'm definitely looking forward to it next month. Click here to get a cool preview of how it works.
Sam's Clubs closest competition in my local market is Costco, which offers many of the same benefits, (plus I enjoy their tasty snack food samples when I go on sample days), but outside of the food market, their closest competitor is BJ's, for retail electronics, which I only recently moved close to one, and have not yet experienced.
Are you a bulk buyin' Mama? Do you prefer one store over the others? Tell us your methods, and requirements for shopping in the different stores, bulk vs regular grocers, and feel free to give good coupon & money saving tips to help us all out in this crazy economy. Share your thoughts in the comments section below.
Happy Cooking!