Archive for the 'Dinner' Category
As moms we are known as multi-taskers, the ones who can do it all.  The other day I was trying to juggle my children as I paid for 10 items that I somehow crammed into my kid free hand.  Mumbling to myself I said, "Not sure why I didn't grab a cart," the young boy bagging up my items smiled at me and said "moms can do it all, right?"  Well as much as moms would like to be able to do it all, we can't.  We are only human. 
One important aspect of being a mom is providing your children with healthy meals, and the nutrition they need to grow.  Let's check back into reality for a moment, feeding your kids healthy food isn't only expensive, but it can be time consuming, and then there are those children (my son included) who would rather feast on chocolate and graham crackers all day.  Too many healthy articles on line to choose from and the fact that it's much easier to stick to a routine recipe than it is trying to juggle the demands of your children all the while attempting to create the newest, healthiest dinner masterpiece make it seem easier to just stick to quick microwaveable food.  Not only that, but sometimes there is that recipe that just fails; plain and simple.  Or it may be exceptionally tasty, but your kids dry heave at the sight. 
Chicken tenders, pizza, carbs, carbs, carbs seem to be a favorite in my house.  I however, realize living off carbs isn't probably the healthiest meal plan for my children.  So instead I secretly sneak things into their muffins, their breads, you name it I've hidden it.  Usually it goes completely unnoticed. 
I would like to share an absolute favorite in my house.  First of all, what child doesn't like pizza?  Secondly, what child doesn't like to help make pizza with their mama's?  Kid's like to help in the kitchen, so I put mine to work!  It can be fun to have them help choose the toppings of their choice (within reason of course, chocolate chips are not an option in this case).  Rather than use regular pizza dough I'm going to share a family favorite using Naan bread for a healthier alternative to pizza.
My children absolutely love this, and it is so simple and easy to make.  There are endless options with toppings of your choosing.  You can choose different cheeses, make your own pizza sauce, or take the busy mom's route, and purchase sugar free pizza sauce.  Your choice!  I personally use either Trader Joes brand, or Ragu light no sugar added.  The less sugar the better in my household.
What you will need:
Naan Bread
Sugar Free Pizza Sauce
Low-Fat Mozzarella cheese
Pureed spinach
And lastly, toppings of your choice.
Not only are these exceptionally simple to make, but very affordable.  In our household we usually make two pizzas.  I puree about a cup of fresh spinach.  Frozen is okay too.  I mix that into about a cup of the pizza sauce.  Like I said earlier, hiding veggies is the key to getting your picky toddler to eat their greens without fuss.  I spread the sauce with the spinach puree over the Naan bread.  My family isn't too big on sauce so we spread a thin layer.  We then sprinkle with cheese.  Add some olives and pineapples to the top and put it in the oven on 425 for 10-15 minutes. 
Another favorite in our household is using turkey pepperoni found in most deli sections of the grocery store.  This recipe is not only quick, and simple but exceptionally affordable for families looking for healthier meal options within a budget.
After a long day of playing cowboys and Indians or "Oregon Trail", my family, particularly the Mom of that family loves an easy to make casserole, something that dates back past those hard-livin' days when everything was made in one pot and stuffed under the coals of a fire. It's so simple; throw a few ingredients together, put it in the oven for a half hour or so while you set the table and get hands and faces washed and toys put away (yeah, right) sprinkle some cheese or some sour cream over the top, and tada! Dinner's ready, usually in less than an hour. This casserole combines a staple of most kitchens and favorites of toddlers and big kids every where, hotdogs, with tasty chili and corn bread for a meal that's sure to make any cowboy or cowgirl, to quote my son's hero, Mater, "happier than a tornado in a trailer park."
Chili Dog Casserole
1 package sweet or country style cornbread mix, (as well as the necessary ingredients for it)
1 can chili (with or without beans)
6 hot dogs
1/2 cup chopped green pepper
1/4 cup minced onion (optional)
1 cup shredded Cheddar cheese
Prep the cornbread batter according to the directions written on the package. Spray an 8X8 casserole dish with enough Pam to leave it pretty well coated, and pour just half of the cornbread batter. Slice your hotdogs into halves, lengthwise, and lay them on top of the mix. Top the hotdogs with the chili and sprinkle the minced onion over the chili, then sprinkle with half of the cheese. Put the casserole dish in the oven for onehour, at 350*F. About five minutes before it is done, or right after you've served it, sprinkle the rest of the cheese on top.
To make this a slightly spicier treat, try adding minced jalapenos or fresh and hot salsa to the chili mix. You can also swap the shredded cheddar for Velveeta, for a creamier chili dog casserole.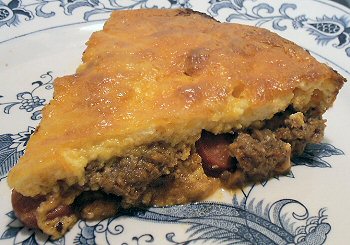 Happy Cooking!
I am still surprised when I visit families for dinner who don't put applesauce out as a "dip" for any kind of pork chop meal. It was a huge family favorite, and my mom made sure to put it at the table whenever we served pork.
The history behind this meal duo dates back to the 4th and 5th Century A.D. when the "Apicius", one of history's first recognized cookbooks featured a meal that combined both pork and apples and explained that the tart of the apples acid helps the body to digest the pork's unwieldy fats. Today's meal combines pork, sometimes not a kid's favorite, apples, which rank a little higher on the tasty-scale, and Red Hots, America's favorite cinnamon candy.

Red Hot Apple Cinnamon Pork Chops
************
You Will Need:
4 Pork chops
1 tablespoon vegetable oil
1 tsp fresh ground black pepper
1/2 cup of chicken broth
1 tablespoon lemon juice
1-1/2 cups applesauce (chunky preferably, for better nutrients)
1 dozen or so Red Hot cinnamon candies
First on the to do list for this recipe is to make the Red Hot applesauce. Combine the applesauce and the cinnamon candies in a small saucepan over medium heat, and stir until the candies melt and everything is thoroughly combined.
For the pork, heat a skillet to medium high, and brush the pork chops with the vegetable oil. Brown the chops on both sides, about 3-4 minutes. Sprinkle salt and pepper over the chops, reduce the heat to low, add the chicken broth and lemon juice. Cover the chops and simmer for 5 minutes.
Top the chops with the Red Hot Applesauce.
Happy Cooking!
I don't know why I haven't shared this recipe with you sooner. If you have a picky eater, this chicken dish may just be something that your whole family can enjoy. The trick is to get the thinnest chicken cutlet as possible. I will often lay the cutlets out, cover them with Saran Wrap and tenderize them. Basically, I beat them thinner.    :o)
You can use this same recipe with turkey cutlets or beef cutlets as well. This inexpensive recipe can feed an entire family for less then going out to fast food. It is also a lot healthier.
As you use this recipe you will find that you do not need to measure out the flour or bread crumbs. You just add more if you run out!
Put flour on a plate (1 cup?)Add salt and pepper to flour and mix with your fingers.
Beat 2 eggs in a bowl.
Put bread crumbs in a bowl
Take your thin cutlet and roll in flour mixture. Then dip into egg and coat in bread crumbs.
Heat olive oil in a non stick skillet over medium high heat. Add cutlets after oil is hot. Cook 4 to 5 minutes or when you think they are done. *Be careful when cooking with hot oil. Make sure your little ones are in the other room since it can splatter.
Squeeze fresh lemon juice on cutlets.
This can be used as a topping on salads or for a meal. I usually serve it with rice and broccoli. If you missed my broccoli recipe, you should check it out. It can be prepared ahead of time and uses lemon juice as well :o)
Enjoy! My kids LOVE when I make this. It is so easy and quick. You can make an entire home cooked meal in under 15 minutes.
This recipe goes over really well at my house. A friend gave it to me a few years ago and we have been enjoying it ever since!
1 teaspoon vegetable oil
1/2 cup chopped red onion
1-1/2 teaspoons minced fresh or 1/2 teaspoon dried thyme
1/2 teaspoon salt, divided
4 (4 oz) skinned, chicken breast halves (I have used boneless breasts as well)
1/3 cup seedless raspberry preserves
2 tablespoons balsamic vinegar
1/4 teaspoon black pepper
1. Heat oil in a large non-stick skillet over medium-high heat until hot. Add onion and saute for 5 minutes. Sprinkle thyme and 1/4 teaspoon of salt over chicken. Add chicken to pan; saute for 6 minutes on each side or until juices run clear. Remove chicken from pan and keep warm.
2. Reduce heat to medium. Add 1/4 teaspoon salt, preserves, vinegar and pepper to pan. (I use extra preserves and vinegar for extra sauce.) Stir constantly until preserves melt. Spoon sauce over chicken and serve immediately.
This recipe is quick, easy and really really good :o)
I am not necessarily a "sweets" person. While I will eat a Reese's Peanut Butter Cup faster than the average bear, I don't crave things like chocolate, I prefer unsweetened tea, and am addicted to pretzels. I am a salt addict, rather than a sugar-holic, so my "sundaes" are usually white, creamy and covered in brown sauce. Yes, I am talking about mashed potatoes. And not the boxed powdered processed flake kind either. I am talking about the smooth creamy lumpy goodness known as home-made mashed potatoes.
One of my favorite purchases from stores like Publix or Walmart is a giant 5 or 10 pound bag of Russet or Gold Potatoes. It's usually around 5 or six dollars for a pretty good size bag, but the possibilities that are presented by a giant bag of potatoes are endless, and I usually end up making about six or seven different meals out of the bag, plenty of food for a week. Not bad for $5, right?
This incredibly inexpensive grocery item can be made to suit anyone's tastes, can be as simple as just potatoes and water, (my infant son's version) or can be as loaded as bacon-sour cream-chive-cheese-chili-loaded potatoes. You can make them into potato skins, you can bake them in the oven, you can scoop the middle out, add ingredients and then pipe the mixture back into the skins and re-bake them, (twice baked potatoes). Leave the skins on for more nutrition and texture, or peel them right after boiling to make the job easier and appease picky eaters. Potatoes were such a staple of the Irish population that a blight that killed their potato crops resulted in the Great Potato Famine in the early 1900's, which is a leading reason why the US is filled with so many peoples of Irish heritage, like me!
Smashed Potatoes
This recipe is an adaptation of my Mom's Thanksgiving Mashed Potato recipe, the only difference is I make mine with milk, when she used to make hers with cream. Subbing the milk makes them a little bit lighter, and removes a lot of fat and calories, but if you want to try it as my Mom's recipe, please do.
You Will Need:
5 large potatoes
6 cups of water
1 cup 1% or 2% milk, heated
1 tablespoon dried parsley
2 tablespoons garlic powder
1 tablespoon non-dairy creamer
1 tablespoon dried minced onion
Parmesan cheese, salt and pepper to taste
Scrub your potatoes, remove any eyes, softened parts, bruised areas, and peel them if you want to. Potatoes are not washed very well coming out of the ground, so it might be a good idea to invest in a small fingernail nail brush to scrub over the skin if you don't peel them. Like I've said, a lot of the nutrition in a potato comes from the skin, so keep 'em on!
Continue as follows…
Fill a large pot with 6 cups of water, heat it to boiling. Cut the potatoes into chunks. The smaller the chunks the faster they cook, but the bigger the chunks the more flavorful the potatoes, and remember that no matter what size you cut them make sure the pieces are all the same size, so they cook evenly. I usually slice mine into 1" thick rounds, then cut the rounds in half, so that they cook relatively quickly, but aren't too soft.
Drop the potatoes into the boiling water, and then let them boil approximately 8 to 12 minutes.  or until soft, but still structurally firm. You don't want mush, but you don't want uncooked chunks either. If you let the potatoes sit in cold water and then heat they usually aren't as fluffy. The starches inside the potato turn kind of gummy as they are slowly heated, so dropping the potatoes into boiling water results in a lighter fluffier mashed potato consistency.
While the potatoes are boiling assemble the rest of the ingredients, and warm the milk in the microwave for 30-45 seconds. Mix all the  dry ingredients, except for the cheese, salt and pepper, until they are combined, then add them to the warm milk, stirring until the creamer dissolves. If you don't heat the milk you are going to have lumps of creamer in your mashed potatoes. 🙂
Remove the potatoes from the heat and drain them thoroughly. Put them back in the pot, and set the heat to low, then pour the cream and herb mixture over the top of the potatoes and use a potato masher or a large ladle to mash the potatoes and mix the ingredients in. In the example I added a tablespoon of Shedd's Spread Country Crock Butter.
Texture is up to you. Personally I am a HUGE fan of chunks. But families with little children may prefer smooth potatoes, so smash as long as you like. Serve the potatoes hot with a dollop of sour cream or butter. Sprinkle the salt and pepper and Parmesan over the top. Delicious.
One of my New Year's resolutions is always to eat less at the fast food places, and eat better food more often at home. This not only saves us money, but gives us more meals at home with everyone gathered around the table, and keeps better tabs on the nutrition that we consume. With my family's slightly crazy schedule, we sometimes pass like ships in the night, so a meal that can be made and reheated later with no side effects to things like taste and texture is really important, and since I'm a mom with a curious little boy who is starting to pull himself up on stuff, it helps if it can be made quickly with simple ingredients. I don't mind checking the oven every once in a while for an hour or so. but I'm not a big fan of intensive time consuming or tedious recipes, unless the end result is something spectacular, like a standing rib roast or a loaf of bread that requires lots of TLC. This recipe comes from "Mama's Recipe Box"  and would be perfect for us or any busy family just getting back into the swing of things after the New Year.
Zesty (Cheesy) Chicken And Rice Casserole


The first part of this recipe calls for an immediate disclaimer. I, Jillian Rebecca, ran out of cheese. And forgot to get more before I wrote this post. So we need to pretend, for the record, that there is cheese in this dish, because if there isn't any cheese in this dish its just not as good. It's good, I'll be the first to say its awesome without cheese, but with cheese its PERFECT. Doesn't matter what kind of cheese, as long as it can be shredded, and you have lots of it. Mexican blend, Monterey jack, or perhaps cheddar are some excellent choices, stronger flavor is great, meltability is important.  (Another disclaimer, there is an excellent possibility that meltability is not a word. But it sounds GREAT!)
So apart from the fact that I have no cheese, this recipe is amazing. One of my favorites, it's something that I planned for a week. (Yes, I planned for a week and still forgot the cheese. I know.) The simplicity, quick and easy assembly and flavor are just perfect for the winter days, and your whole family is going to want to know how to make it. It can also be wrapped up and served at a potluck, or gifted to a neighbor who might be going through a hard time, so print out and keep a copy of the recipe handy!
You Will Need:
2 boxes of RiceARoni Chicken Fajita Flavored Rice
1-½ cups water
2 cups of frozen chicken fajita strips (available in your grocer's freezer)
1 large (29oz) can of black beans
1 green pepper
1 teaspoon minced onion
1 tablespoon of olive oil
9 X 13 glass baking dish or casserole dish
1-2 cups shredded cheese (optional, but highly recommended)
Sour cream (optional)
Heat your oven to 350*F. Spray your glass baking dish with cooking spray and set it aside. Remove the seeds and stem from the green pepper and then chop it into bite size pieces, or thin strips. Pour the rice and the seasoning packets into the baking dish, mix to combine, then layer the can of beans, the chicken strips, the green pepper, the minced onion, the garlic, the olive oil, and half of your cheese, stirring until combined. Fill the large can halfway with water (approximately 1 ½ cups), pour it over the mixture, stir until combined again.


Place the glass dish in your oven, bake uncovered for 1 hour and 30 minutes,  taste the rice for done-ness, sprinkle the rest of your cheese on top, and let it melt for a minute or two under the broiler. Serve with chips and salsa, or some fresh guacamole, or a giant dollop of sour cream. Make the kids wear sombreros, or cut black paper mustaches for everyone to wear to dinner. Makes a great family meal, and you can even freeze leftovers in Tupperware or Ziploc containers to bring to work for lunch!
You can use almost anyone of the boxed rice or noodle blends for this recipe, try yellow rice and red peppers for a more colorful dish. Try brown rice and add up to another half hour to the cooking time for a healthier recipe.

Most times vegetables are chopped, minced, or made invisible in a recipe, used as a flavoring, or a texture enhancing item, especially when kids are concerned. But if you use the veggie as the highlight of the meal, or even the serving dish for your meal, you draw attention to it that extends well beyond its flavor. Stuffing a vegetable is no different from stuffing a turkey, or any other type of meat product, except that it takes a lot less time to cook. Here are two recipes for stuffed vegetables, a stuffed tomato, and a stuffed mushroom, that will enhance any meal plan, and make a veggie the spotlight star of the evening.
Feta Stuffed Tomatoes
A classic Italian recipe that drips with both flavor and yummy melted Feta cheese. Go all out on the few ingredients that you need, use only fresh ripe tomatoes, the sweeter, firmer and prettier the better, and use fresh herbs instead of dried for extra kick.
You Will Need:
1 bunch fresh oregano, leaves removed from the stems and minced
1 garlic clove, peeled and minced
1 -14oz container of Feta cheese
1 tbsp sour cream
8 large firm tomatoes
olive oil
salt and pepper
Preheat the oven to 450* or set it to broil. Mix the feta, oregano, garlic, sour cream, and salt and pepper to taste, in a large bowl. Cut just the tops off of the tomato's and hollow them out with a spoon. Keep the pulp in a glass baking dish. Fill the tomatoes with the cheese mixture then set them in the pulp filled baking dish. If you are baking them, bake at 450* for 8 minutes, or if you are broiling, put them under the broiler for 3-5 minutes until the cheese on top starts to brown and bubble.
 
Stuffed Shrooms
Large white mushrooms are the main event in this recipe, and this dish is a great way to introduce them to your kids, warm and fragrant, instead of raw, cold, and slightly slimy. Again, the fresher the better, when it comes to your ingredients, and if you can, use fresh grated Parmesan instead of the kind out of the can.
You Will Need:
12 large white mushroom caps, (cut out the stems, chop just the stems, and set aside.)
2 shallots, minced
2 cloves garlic, minced
4 tbsp butter
3 tbsp white wine, dry
1/2 bunch of parsley, leaves plucked from stems and gently minced
1/2 bunch of thyme, minced
1/2 cup grated Parmesan cheese
1/4 cup bread crumbs, (try Pumpernickel bread!)
1 egg
Heat the shallots and garlic with half of the butter until they are just soft in a medium sized saucepan. Add the chopped mushroom stems, salt and pepper, and white wine. Reduce heat and simmer for three minutes. Pour in a large bowl. Add the parsley, thyme, cheese, bread crumbs, and egg, mix until thoroughly combined. Melt the other half of the butter in a small bowl. Fill the mushroom caps with the bread crumb mixture, arrange them on a baking sheet, then brush them with the melted butter.  Bake the stuffed caps at 350*F for fifteen minutes.
Happy Cooking!
Slow cooking is a Mom's best friend. Add your ingredients, turn on the Crock Pot, set the timer, and go to work. By the time you get home at five or six that night, dinner is done, and your house smells like the best restaraunt you've ever been to! The simplicity and ease of use is what makes it so great for busy moms, but slow cooking has been around for centuries, since the days of burying your dinosaur meat in a big pile of hot rocks and letting it sit for a day or two while you rounded up your next kill. Ok, so maybe dinosaur meat is a little bit of a stretch, but since the invention on metal and ceramic pots and pans, the chef has used this method to cook.
Let's go over a few common terms when sloooooow cooking:
Crock Pot: Common brand of electric insulated pot that cooks food over an internal heat source using a set timer. Get one. They're incredible.
Dutch Oven: Heavy, thick walled cast iron pot with a recessed lid that is used over a hearth, open flame, buried in hot coals, or in the oven.
Casserole: A large, usually white, ceramic dish that is used to cook a large variety of ingredients at the same time.
Casserole: The name of the dish usually cooked in the casserole dish.
Stew: A mixture of meat and vegetables, usually cut up, added to water, then cooked until soft and the water becomes a sauce.
Braising: Cooking meat in a small amount of water to retain moisture in the meat, most often successful with a fully sealed lid. Water becomes a very strong sauce.
Au Jus: The drippings and flavorings of meat when cooked, usually mixed with water for a sauce. TASTY.
So by now you have a pretty good idea of the basic utensils needed for slow cooking, lets go over some of the different types of ingredients you will likely encounter.
Beef: One of the most satisfying parts of slow cooking is that you can take a less that perfect cut of meat, one that is cheap, chewy, and useless for pretty much any other type of cooking, and turn it into the softest, most tender, delightful cut of beef you've ever experienced in your life, just depending on the length of time that you spend cooking said cut of meat. The longer you cook, the better, and the tighter your lid on your pot, the better. Like the old pressure cookers that were common while our parents were growing up, heat, pressure, moisture, and time all combine to tenderize and add flavor to your choice of cut. That tough rump roast, or shank of lamb can be cooked to perfection in eight hours. That chewy deer meat that your third cousin Clyde is always dropping off on your doorstep can become velvety soft and tender like you've never tasted it before, and you don't have to beat it with a mallet, or add gobs and gobs of alkali tenderizer to it.
Vegetables: Veggies both absorb flavor and emit flavor when cooked in the same pot as the rest of your items, becoming soft and juicy while giving that young spring chicken next to it a decidedly carrot like flavor that compliments it very nicely.
Potatoes: Simmering potatoes releases the starches and even sweetens them some, especially the longer they are cooked, while the water they are cooked in often becomes a thicker gravy-like sauce that has the tastes and aroma of the other items in the pot.
Barley, Rice: Can be cooked right along with your first batch of ingredients, and will absorb water and flavor from the other items around it, so adjust your water amounts accordingly.
Pasta: Noodles should be added during the last hour of cooking, as they take the least amount of time to cook usually, unless the recipe calls for very saturated soft pasta.
Slow cooking doesn't have to be a last minute as you rush out the door dinner idea, but it can work in a pinch. Classier meals can be made with a slow cooker, such a duck confit, or beef ragou. Or you can stick with classic chili-mac or chicken soup. You can even bake with a slow cooker. One of my favorite memories is my brother's Boy Scout leader making peach cobbler in the remains of our fire pit after seven hours of hiking in the blistering sun and shivering cold of a Florida winter. You can find literally hundreds of recipes online, in the library, and even on TV, (YAY INFORMERCIALS!) that offer great advice, tips and tricks for using the slow cooking device of your choice.
Cooks.com Search: Slow Cook
AllRecipes.com Search: Slow Cook
Williams Sonoma: Fast Slow Cooking
Fresh vegetables are available all year round, even in the cold winter months! A variety of crisp and tasty treats that you can find at your local farmer's market or supermarket during the period between September and March. A lot of the veggies available are root vegetables, like spicy horseradish, carrots, sweet beets and rutabaga, and some of them are big leafy veggies like kale, cabbage and endive. A lot of them may be unfamiliar to your kids, or even to you Moms out there, but its a great opportunity to introduce a wide variety of new veggies, and some of them aren't green, which might help make it easier!There are hundreds of festive recipes that call for anyone of these veggies, sometimes two or three of them, and they can be a nutritious, healthy and yummy addition to your meals over the holiday season.
Beets are a bright red, naturally sweet vegetable that are great cooked in many different ways, baked, broiled, boiled, roasted, and even grilled. They have a very dense, smooth texture, and go well with a lot of different main course, especially red meats. Beets have a lot of natural sucrose, or sugar, in them, that only gets sweeter as they are heated, and some types of beets that are grown in temperate climates are even used to make table sugar. You can use beets in a lot of different recipes, and even use just the greens from the tops of the beets too!
The rutabaga is a cross between the cabbage and the turnip that originated in Sweden and Russia and can be used in almost any recipe that calls for a root vegetable, much like a potato. They are even carved like pumpkins in Britain and Ireland around Halloween. They have a nutty flavor and smooth texture that can be used as a thickening agent for soups and stews as well.
Winter squash is actually several different types of squash;  acorn, butternut, spaghetti, and turban squash. Most of them are fully matured in the very late summer and throughout the fall seasons, but are killed by frost. They are usually found on a number of Thanksgiving tables as a centerpiece, but are found in a lot of Thanksgiving and holiday dishes as well.
Parsnips are very similar to carrots in both taste and texture, but can sometimes have a very hard or "woody" center that needs to be cut out before they can be prepared.
Leeks are very similar to green onions but have a much more mild flavor. They are used alot of times in conjunction with potatos for soups, and rarely featured in recipes on their own. They are largely a complimentary veggie.
Kale is a member of the broccoli family of veggies, and some of the varieties have distinctive curly leaves and some have big broad flat leaves. It can be cooked by itself or as an addition to other ingredients in recipes, and cooked a lot like collard greens. It is used often with beans in soups and stews, and has a nice flavor that compliments both red meat and poultry.
Fresh Kale With Pancetta and Garlic
Endive is a member of the DAISY family, with a couple of differences in the types available in the markets. The broad leafed or Belgian endive (pictured) has a smoother more buttery flavor and large wide light green almost yellow leaves. It can be cooked alot like cabbage. The other type of endive has long thin stems and small curly leaves, with a sharp almost bitter flavor. It is often used as a garnish or flavor addition.
Belgian Endive with Ham and Cheese
Endive Beet and Red Onion Salad
Horseradish is a root veggie, with a very sharp flavor that is used most often as a flavor additive, minced and added to soups. It's usually available in jars, but sometimes can be found in root form to be sliced or grated. Be careful about how much of the root you use in your recipes, a little goes a long way, and can add a lot of heat to your meal. Click here to learn how to make horseradish from a raw root.
Cauliflower is a sister to broccoli, and can be swapped for the green veggie in a lot of recipes. It can also be steamed or boiled and mashed much like potatoes for a lower carb variation to mashed potatoes. Its smooth flavor and creamy texture make it a great choice for a vegetable.
Carrots have been a classic staple of the American meal for centuries, distinguished by their sweet taste and rich vibrant orange color. They are a root vegetable, and can be eaten raw or baked, broiled, steamed, or even as the main ingredient in a number of dessert breads, like the traditional carrot cake.
Cabbage is a naturally spicy leafy plant closely related to the wild mustard plant. Only the inner light green leaves are usually eaten, and are at times coated with a waxy powder substance called bloom. It can be cooked in a number of ways, although when boiled it releases the sugars stored in the cabbage and gives your kitchen an slightly unpleasant aroma.
Classic Corned Beef and Cabbage
Brussel sprouts grow wild in a lot of areas in North America, and grow on a very tall stalk like little lollipops sticking out. They are at their best when harvested after a short frost, like citrus fruit they get sweeter when exposed to short periods of intense cold. Overcooking Brussel Sprouts is never a good idea, because sulfur-like compounds are released, and this affects the smell and taste of the sprouts, a reason many people claim to dislike the veggie. They should be cooked until just tender.
Dad's Bacon Wrapped Brussel Sprouts
You Will Need:
12-16 Brussel Sprouts of similar size
1 pound of bacon
minced garlic
1 Tbsp extra light olive oil
Heat the oil in a large skillet, along with the garlic. Remove the outer leaves from each brussel sprout, then wrap it in a slice of bacon. Saute the wrapped sprouts until just tender, adding more oil if necessary to prevent scorching. The sprout absorbs the flavor of the bacon and believe me it is GOOD. You can also grill the wrapped sprouts for a smoky flavor.
Happy Cooking!